Yoga for pregnant lady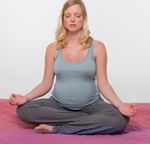 Pregnancy is one of the most beautiful experiences gifted to a woman. Yet this nine-month journey brings with it a variety of changes and emotions to juggle with. Yoga can help you cope with this journey, making it smooth and enjoyable!
What are the benefits of practicing yoga during my pregnancy?
Ideal way to stay in shape: Pre-Natal Yoga can be an ideal way to stay in shape during pregnancy as it keeps you limber, tones your muscles, and improves your balance and circulation, with little, if any, impact on your joints.

Helps diminish swelling and joint inflammation: Swelling and inflammation is caused by water retention and decreased blood circulation. Since yoga helps promote blood circulation, it is effective at preventing and reducing the common swelling of the ankles, feet and hands during pregnancy.

Prevents and decreases pain in the lower back: Lower back pain is a common complaint during pregnancy. Regular prenatal yoga practice stretches the muscles of the lower back and strengthens these muscles and the spine. This reduces muscular tension and improves posture which alleviates the back pain.

Stress Relief: To adjust to the physical demands of the pregnancy, birth and motherhood, yoga provides the mother's body with physical and emotional stress relief throughout the pregnancy. Achieving a more balanced hormonal system, pregnant mothers can maintain a greater sense of well-being through breathing and relaxation exercises that calm both the body and mind.

Natural remedy: Pre-Natal Yoga provides natural relief from common pregnancy discomforts with no external application of medication.
Our Services :
• Yoga
• Floor & Step Aerobics
• Immediate Weight Loss
• Pranayama

• Meditation
• Power Yoga
• Yoga Pilates
• Facial Yoga
• Diet counselling

• Exercise for eyes and
concentration
• Muscle toning exercise
• Personal training
• Yoga for pregnant lady